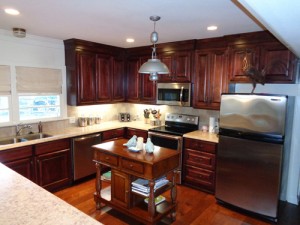 When you're in need of general remodeling, you'll first have to schedule a consultation with the construction company. Most contractors offer this consultation for free in order to get an idea of what you need and what they can offer before making any commitments. In this consultation, you'll discuss cost, the work, and the contractor's certifications that enable them to take on the project. But between the time the consultation is scheduled and the time it takes place, you'll need to do some preparation yourself. Here are a few tips to prepare for your remodeling consultation.
Plot out an Informed Budget
Before the consultant arrives, have an idea of what you can afford. You may research costs of similar remodeling projects in your area so as to be better informed. It may be wise to set a budget for slightly lower than you can comfortably afford, so that if throughout the course of the project you have to go a little over budget, you won't break the bank in doing so. Even with a skilled professional, often in remodeling projects it's best to expect the unexpected.
Brainstorm Design Ideas
Knowing that you need remodeling work done is not the same as knowing exactly what you want for your remodeling work. Of course, your remodeling contractors are the professionals, but they're not mind readers. You should still be able to present an idea to them during the consultation of what you'd like. Many homeowners will cut out excerpts from design magazines or even create a Pinterest board to give the consultant an idea of the look they want. These design ideas should tie into your budget so make sure you have an idea of what they cost. If you have a tight budget, you may not be able to afford marble countertops or high tech kitchen sinks. Be imaginative, but be practical, too.
Research the Construction Company
And of course, you want to do your homework on the construction company before you make a final decision to hire them for your remodeling project. Most of this research, such as looking up customer reviews and perusing their website, should be done before you schedule a consultation, but you can continue to research the company after that point as well. How much experience do they have in your area? What's their BBB rating? Are they insured and bonded? Think of a list of questions to ask the consultant on the day of the consultation. Write them down so you won't forget anything.
Windham Construction has been providing construction work, including general remodeling, to Brazos Valley and the surrounding areas for over 20 years. We'd love to set up a free consultation to discuss your next remodeling project and what we can do to help. Contact us today for more information.