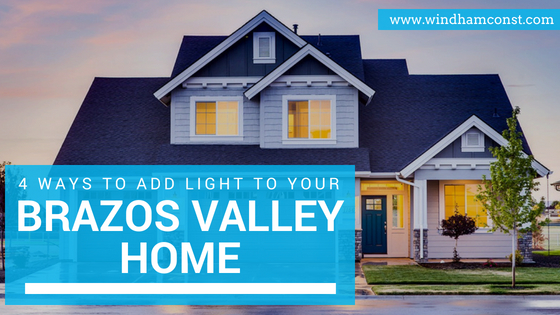 It's a universal fact that humans crave light. It's not just a matter of being able to see. Light cheers us and motivates us. Light helps us to stay energized and focused during the day and sleep better at night. Natural sunlight is especially beneficial to both our physical and mental health, but being surrounded by light in general can't help but lift our moods.
The problem is that when it comes to electrical light, filling the room can quickly become expensive. That's why homeowners often search for other methods of adding light to their home. Here are a few methods they'll often use:
Simple Window Treatments
If you have a great window, you really don't need to adorn it with elaborate window treatments. A thin frame and maybe simple window shutters should be enough to do the trick. This is especially true with wide, tall, floor-to-ceiling windows. The lighter the window frame, the more the window itself is accentuated — and the more light it allows into your home.
Light Walls
This is no secret, but it really can help to fill a room with sunlight. Dark painted walls can make a bold statement in a room, and that suits some homeowners. However, if your goal is to optimize the light in the room, light colored walls are essential. Light colors will reflect light from the windows or light fixtures in your room, to make sure that you get the most of it. Dark colors will only swallow that light. That doesn't mean you have to resign yourself to white walls. Yellow or blue or even light green will all reflect light and give the room an airy atmosphere.
Clear or Reflective Accent Pieces
A clear vase with glass marbles inside. A transparent coffee or dining room table surface. A mirror on the wall or ornate glass on a side table. All of these accent pieces will either reflect or allow light to shine through them, which further helps it to spread throughout the room. They also add to that airy atmosphere that we discussed above.
Cut Down on Clutter
You don't have to go for minimalism, although minimalist spaces and light are a natural fit. However, you don't want the room to be too busy, either. If your bookshelf is a little too cluttered, or you have a few boxes in the back of the room that you've been meaning to move for months, this is a good time to do it. If the kids toys are always lying around, consider giving them a designated play room or play area.
Adding light to your room can not only help you feel more cheerful and content in your home, but it can be inviting for guests and healthy for the whole family. If you need help adding light to your home, contact Windham Construction. We can repaint a room, add windows, or even create a sunroom for that specific purpose. We have over 20 years of experience remodeling homes in Brazos Valley and we'd love to help you, too. Contact us today and tell us your vision for your lighter, brighter living space.