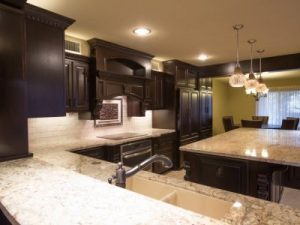 When you decide to renovate your home, you can get in over your head fast if you don't watch out for some common mistakes. Setting a budget that allows for overages, setting realistic expectations, and working with the style of your home are all important steps.  Here are some common mistakes that homeowners make when the embark on a home renovation
Expectations that don't match your budget
If you're doing the work yourself or if you're hiring a contractor, you have to work with the home and budget you have. It's not going to look just like a picture in a magazine because that picture wasn't taken in your home. You can, however, get close. If you're reasonable and patient, you can feel good about your renovation.
Choosing the wrong professionals
Whether it's the designer or the construction company, you need to be sure you're working with the right people. Hiring the first name you see or just taking the lowest bid will not always lead to quality work. Hire experienced professionals. When it comes to your home there's never a good time to let someone that's inexperienced take a shot.
Gutting everything
A small job can get much bigger if you aren't careful. With a good plan, you can make sure you don't get in too deep. Hiring a professional to do the work will prevent some of the drama.
Renovating for a future buyer and ignoring your own needs
Unless you can see the future and read minds, renovating for a potential future buyer is a mistake. If you think about what a future buyer might want, the renovation won't work out as well for you. Design and build to suit your own needs.  If you are planning to sell in the next few years, you can keep the colors neutral to appeal to a larger audience, but don't skip out on features that you like.
Skipping important rooms
Opening up space in a bedroom and living area is a wonderful idea, but don't forget other rooms that you use frequently. The kitchen and bathroom can often use remodeling to make better use of space than the home builder had in mind. A home remodeling project that doesn't include the kitchen and bathroom is a missed opportunity.
Not considering your location
Home remodeling in a sunny place like Bryan-College Station, Texas will often take a different turn than a home remodel up north. Here in Brazos Valley, TX home remodeling can include outdoor spaces like decks and sunrooms. There's plenty of sunshine to enjoy in our part of the state.
Ignoring needed renovations
Granite countertops are more fun and attractive than replacing moldy drywall, but if you have mold, you need to get that taken care of. Not all renovations will be apparent. Some things just need to be done for health and safety reasons.
Trying to do it all yourself
You may be very good at DIY projects, but there are times when you need to bring in a professional. Hiring professionals can ensure that you get the right permits and that the job is done well the first time. Also, having a construction crew in your house will get the job done faster.
Most of these mistakes can be avoided with the right professionals by your side. Hire a professional crew and your life will be easier.