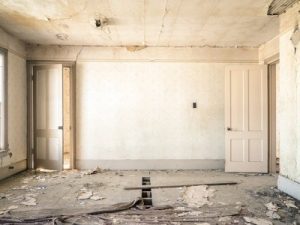 Fixer uppers are all the rage, at least on home improvement shows. There are multiple shows centered around the same premise: instead of buying an expensive, move-in ready home, save money by buying a home that needs a little love and fixing it up. And surely, renovating a fixer upper can be a great way to put your personal stamp on your new home. However, the intimidation towards buying a home that needs renovations is not without cause. It can be a daunting task that leaves many home buyers wondering, "Is it even worth it?"
The answer is…sometimes. In many cases, buying a cheap fixer upper that just needs cosmetic renovations can be much cheaper than buying a move-in ready home. In other cases, though, the home needs to be gutted to be functional or is in such bad shape that the cost to renovate is far more than the cost of a move-in ready house. Know the difference. Hire a home inspector before buying so they can give you a clear picture of everything you'll be getting into with this house. If the cost of the house and the cost of the renovations combined is still cheaper than move-in ready houses on the market, a fixer upper could be a good opportunity for you.
The other thing to take into consideration is time. Renovating a home can be disruptive and stressful and can last for weeks or months, depending on the work that needs to be done. If you're in no hurry to move into your new home, you won't have to worry about living with it. If you need to move sooner rather than later, you might find yourself in a home that feels more like a disaster zone. It's a good idea to get an estimate from a construction professional before making any major decisions so you know how much time renovations will take and whether you have that time.
Some homeowners choose to do their own renovations to save money. However, not all homeowners have the skill or the time to put into that work. In most cases, it's best to hire a local professional. You can know that your renovations are being done by someone who knows what to look for and what best to do, and you can be relieved from the stress of having to do the work yourself. Some construction groups even include design services, so you can get a jump-start on your interior design, as well.
Renovating a fixer upper is never easy. If you decide to take on the task, you have to be prepared for a good amount of cost and chaos. A local construction group who knows Brazos Valley well and has a dedication to quality can help take some of the edge off. And sometimes, the good outweighs the stress and all of that mess of a renovation can lead to your new life in the house of your dreams.