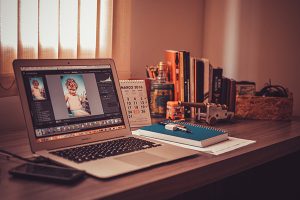 Color has a strong effect on our moods. Brighter colors can make us more energized and alert, while soft or deep colors help us to relax. Warm colors evoke cozy, homey feelings, while cool colors can inspire us and help us to focus. So if you work from home, the color of your workspace matters. It can affect your energy level, your ability to focus, and even how productive you are throughout the day. Deciding what colors are best for your home office depends on the kind of work you do and the kind of feeling you want to evoke. Here are some of our favorite suggestions for home office colors and how they can transform your workspace and help you to get things done:
Green
Green is a color that screams creativity and inspiration. Green is an energetic color that can motivate you and help you to center in on the things you want to accomplish. While a bright green on the walls might be a little too distracting, even a light pastel green can make your workspace seem potent with ideas. On the other hand, you could paint the walls some other color but fill the room with accents of green. A green vase, green desk lamp, wall hanging, or green chair will give the room an extra pop. Houseplants are also a great way to incorporate green into your home office. These themes of green through the office will make your home office a place where you can focus and be more productive.
Blue
Let's face it, your work can be stressful sometimes. Even when you love it, there are always things that you dread or days that are hard to get through. If your workspace gives the wrong vibe, it can make your workday even more tense. This is where blue can help. Blue is a naturally calming color, one that can help you to feel more at ease, no matter what your day throws at you. There's a reason why most social media platforms use blue as the main color in their design. Blue draws the eye to it and creates a relaxing atmosphere. Deep warm colors can also help you to feel more comfortable, but usually in a cozy way that dissuades productivity. Blue is a great choice for home offices because it can clear your mind of tension and help you to focus.
Yellow
Sometimes the best way to boost your energy in your home office is to give your eyes a break from the monotony. Painting the walls a cheerful yellow will pleasantly surprise your senses and thus, make you feel more alert and focused. Yellow is also reminiscent of the sun, so a yellow workspace can help you feel energized during the workday, and maybe even sleep better at night. Yellow walls, yellow windowsills around the sunshiney window, or yellow plaques to fill the empty spaces on your bookshelf can all boost your productivity and make you feel a little happier in your home office.
If your home office needs a remodel, call Windham Construction at 979-324-8596. We have over 20 years of experience with home remodel and construction services in College Station and the Brazos Valley area. If you can't decide on a color, we'll try out different samples so you can see what you like best. Your home office should be a place where you want to get work done, not a place that distracts you from the work you have to do. We'll help you realize its full potential.