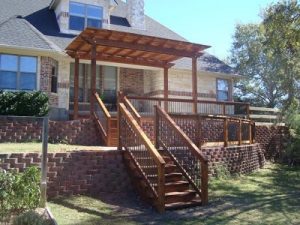 You might not think of making much use of your pergola this winter. While a pergola provides the perfect combination of shade and fresh air in spring and summer, winter tends to be a season for staying indoors. The idea of sitting under pergola in December, even in Texas, just doesn't sound as good as curling up on the couch. But just because temperatures are starting to drop in College Station doesn't mean your pergola should go to waste. In fact, it can be the perfect canvas for one of the most fun parts of the season: holiday decoration. Even if you stay inside this holiday season, decking the pergola with boughs of holly can give you something cheerful to view from the window. Here are some of the ways you can decorate your pergola this year:
Lights and Tinsel
The shape and structure of your pergola makes it the perfect place to string lights or tinsel. You can run Christmas lights along the beams or just let them fall in a graceful sheet hanging from the roof. Wrap some garland along the cedar legs or pin the tinsel to a deep red bow in the front center of the pergola. You can even combine the two, wrapping the lights around the tinsel that wraps around the pergola. It's a simple decoration as most of us have a surplus of lights and tinsel tucked away in storage somewhere, but it can transform your pergola from a summer oasis to a slice of Christmas cheer. Hang a wreath here and there just to add to the feeling. Even on colder nights, your pergola might look so inviting that you won't be able to help slipping out there for a bit with a wool cap and a cup of hot chocolate.
Holiday Focal Pieces
If your family room is tight on space, you can always move the Christmas tree out to the pergola. A well decorated Christmas tree on its own can transform the look of your pergola. Imagine how much better your Christmas tree will look in a pergola that's already decked out for the big day. This is a great way to switch up a tradition that might have gotten a little stale for your family. If you're religious, the pergola is also a great place to put a nativity scene or some hand-crafted Hanukkah decorations. For more general holiday decor, you could place poinsettias at the corners of the pergola or a large, light-filled yard display snowman. There are multiple holidays that can be celebrated in December, and your pergola is the perfect place to decorate for all of them.
Keep Warm
If your pergola is so beautifully decorated that you find yourself wanting to spend time there, despite the weather, keep things cozy with a fire pit. You can gather around with your family and roast marshmallows (or, of course, chestnuts), sing your favorite carols and talk about your favorite parts of the season. A fire pit will not only keep your pergola comfortable in winter, but it will add to that wonderful warm sweater feeling that so often comes with the holidays.
This season, we at Windham Construction hope you have a wonderful holiday season. If you want your own pergola to decorate for the holidays, or simply to enjoy at any time of year, contact us today. Our family has been serving Brazos Valley's construction needs for over 20 years, whether those needs are deck or pergola construction or interior remodeling. We'd love to explain what we can do for your home this season or any time of year.