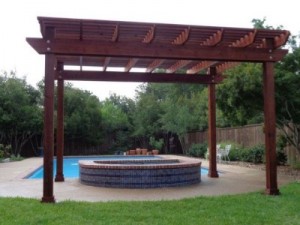 Homeowners in the College Station, TX area would miss out on all the fabulous weather if they relaxed and entertained inside their home all the time. Even if you have a large house, it can get boring staring at the same walls all the time. The backyard may be lovely with professional landscaping, but it does not become very useful without some help. Why not extend your living space with the addition of a sunroom, porch, deck and pergola?
Sunrooms/Screened Porches

These home additions create a zone that shares characteristics from both the inside and the outside. Sunrooms use many large windows to allow the sun and cool breezes into a comfortable space that is protected from the weather. A screened porch moves you closer to the outdoors. The walls of screening allow sun, wind and sometimes rain to come in while protecting you from biting insects. These rooms and porches will quickly become favorite spots for relaxation and entertaining.

Decks

With all the varieties offered in decking these days, a deck builder in College Station, TX can help you choose a design that is perfect for your home style, backyard size and the intended use. Decks are usually made from wood with a railing around them. Seating can be built in or they can be left flat for use with outdoor furniture. Many people enjoy grilling on the deck and having family and friends over for a fun cookout. They are one of the most common ways to extend living space of a home into the great outdoors.

Arbors/Pergolas

The Texas sun can be quite hot and protecting yourself from it can help prevent painful sunburns as well. If you have an existing deck or patio on the backside of your house, adding an arbor or pergola can be an excellent idea. Builders who design and install pergolas in College Station, TX understand the best options to get the most benefits in sun protection and cooling comfort.

Because arbors and pergolas are not solid like an actual roof, rain and some sun was still come down through the slatted boards. They do add architectural interest to the backyard and afford some measure of cooling to make it easier to enjoy the outside in this hot region. Additional sun protection can be had by installing overhead screens or allowing lush vines to climb up the arbor and over the top.
Decorating and maintaining a beautiful home provides ample space for a family to relax and entertain their family and friends, but nothing beats getting outside to enjoy the warm temperatures, a bit of sun and a great view of your landscaped backyard. Building sunrooms, porches, decks, arbors and pergolas can extend your living space and increase the value of your home with less cost and mess than a total renovation.