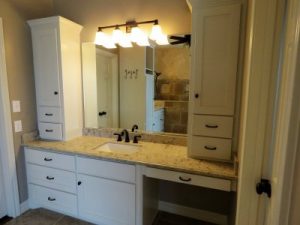 If you're looking to do a renovation on your house or even doing a bath and kitchen remodel, it's good to know what steps you need to take to make it all work out perfectly. Whether your home remodel is in Brazos Valley or in the Bryan-College Station area, there are some things you need to consider before having your home remodeled.
If You Have a Strict Budget
Sometimes your eyes can be a little bigger than your bank account. You see a beautiful home in a magazine and you want your home to look like that. However, you may not be able to afford to make all of the changes at once. At the same time, there's no point in living in a home that doesn't make you happy. If you want to have a wonderful home, but you are on a budget, you have options.
Get a contractor to give you an estimate on everything you want to be done, but also ask the contractor how much each part of the project will cost. You may only be able to afford a kitchen remodel now, but later you may be able to add a bathroom remodel and other work around the house.
Finding the Right Contractor in Brazos Valley
If you live in Brazos Valley you should be concerned with finding a local contractor that really knows the area. While other cities may have many building contractors that will meet your expectations, Brazos Valley doesn't have a big city like Dallas with a lot of contractors. Since your choices are limited, you need to do your research.
Questions to ask a contractor:
How long have you been in business?
Do you live around here?
Can I see pictures of previous jobs you've done?
Each of these questions is important. You don't want to put your money in the hands of a newbie. Yes, we all want people that are just starting out to succeed, but no one wants to be one of the first customers of a construction company that hasn't constructed anything. Don't feel sorry for them. They can have family hire them at first. You go and find an experienced contractor.
A local contractor is important as well. If he lives and works in the area, he has connections in the community. He can get things done right, with eh right materials and people, faster than someone that isn't from around here.
Hiring a builder to do work around your home requires trust. You have to trust them with your home and your money. Make sure to only hire someone that you know will do the best work. When you're hiring a construction company to work for you, ask yourself one question: Do I trust this team to do the work the right way?  If you hire someone out of sympathy because their business doesn't seem to be working well, you'll soon see why their business isn't working well. You need an excellent builder to work for you.