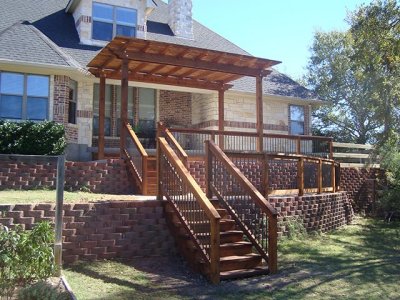 When you drive home after a long day at work and turn into your driveway, you want to be able to look at your house and feel a sense of pride and welcoming even before you get to the door. Having good curb appeal is important even if you don't intend to sell your home anytime soon. After all, the front of your house and the entryway are the things everybody sees first when they come over to visit. Home renovation in College Station, TX can refresh the look of your home to make it the jewel of your neighborhood.

New Painting and Siding Comes First

If your budget is not that big, you can add new siding or repaint just the front of your house to increase curb appeal without painting the side and back walls as well. Of course the finish on the front walls should match or complement what is already installed in the back, but it does not have to be exact to look good.
Painting your existing siding is always a great, more affordable option for revitalizing the front façade of your home. Durable, weatherproof exterior paint comes in a wide variety of colors and finishes. Today's paint is designed not to fade or chip in the sun or rain for many years to come. Instead of chasing trends in home color, choosing a timeless, neutral shade may be your best bet.
For fabulous style and easy maintenance, nothing beats Hardie-Plank siding. This cement fiber siding has been recommended by home renovators, handyman services, design crews and consumer groups for many years. It's top-quality construction and attractive finishes are perfect in the hot Texas weather and suit many different styles of home. Multiple color options are available as well as simple primed siding that can be painted with regular house paint.
Windows and Skylights

Upgrading to new windows can also increase the curb appeal of your home. Painted trim that is flaking or wearing out, or is discolored by the sun or rain is a maintenance nightmare that necessitates hiring handyman services regularly to keep the windows looking like new. Buying and installing vinyl windows can get rid of this problem and keep the front of your home looking great for many years.
Windows are mainly used to allow light into the home and, while this factor has nothing to do with the exterior appearance, it is important for your overall impression of the entryway and front hall of the house. Another way to introduce beautiful sunlight into the home is with Sun Tunnel Skylights. These tubular lighting access points provide a great flash of sunlight to the interior without marring the exterior roof style with bulky mechanisms or large pop up fixtures.
Exterior home renovation in the College Station, TX and Bryan, TX area can encompass everything from replacing all the siding on your house to painting window trim and the porch railing. Depending upon budget and condition of the exterior fixtures, simple and effective things can be done to improve curb appeal and make your home something truly to be proud of.