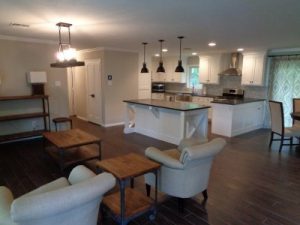 Have you been considering home renovation in College Station, TX? How do you know when it's time to call a local home renovation company? Many people think that home remodeling is only done for cosmetic purposes or to upgrade an old or outdated item in a home. In reality, home remodeling can be done for a variety of reasons and there are things to watch out for that can clue you in that it's time for some renovation work.
It's important to remember that most homeowners will undergo several renovation projects during the time that they live in a particular home. While some homes may need more work than others, it's very common for homeowners to desire some changes around their property. Here are some things to look for in your own home to let you know that it's time to upgrade your living space.
Signs of Wear And Tear 
All homes will eventually experience some basic wear and tear, no matter how recently or how well they were constructed. This is simply part of the home ownership experience. If you start to notice that some items around your home are showing signs of age or use, it might be time for home remodeling in College Station, TX.
For example, you can go on a walk -through of your home to check for these signs of use. If you notice that carpet in the living room is worn and loose, it could be the right time for a replacement. Also, if you notice floorboards or tiles that are warped, misshapen or out of place, you might need to replace the floor. If the appliances or fixtures in your bathroom or kitchen are starting to rust, break or malfunction, now is the time to call a local home remodeling company.
Running Out Of Space 
When the holidays come around, do you find yourself worrying about where to entertain and feed your guests? Perhaps you like to invite friends and family over for Sunday dinner but find that you just don't have enough room at the dining room table. This is a sign that you might need a sunroom or a screened porch to add extra space.
If you have a backyard, you can transform into an ideal location for communal meals and relaxation with friends and family. A sunroom or a screened porch can add the extra space that you need to have parties or large gatherings without worrying about finding enough room inside the house. These additions are also great for relaxing by yourself or with your spouse and kids, especially during the hot summer months in Texas.
Upcoming Home Sale 
When you list your home on the market, you want to get the best price that you can manage. This is one of the most important times for home remodeling. Potential buyers are less likely to make bids at your listed price if you have rusted fixtures, cracked floors or peeling paint in your home. Investing in home repairs and renovations costs some money initially, but you stand a good chance to make that money back when you get a great offer on your home.
If you have noticed these things around your home, it's the perfect time for home renovation in College Station, TX.