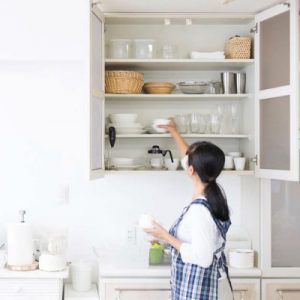 AT HOME MAGAZINE – 2017 ISSUE


{Home care & Decor}
Maximizing Smaller Spaces when Remodeling

by Alison Windham, Windham Construction
When considering a remodel of a smaller home, there are some things to consider that might help with functionality, budget and aesthetics.
Whether your house was built in the 1940's or 1980's, there are some universal floorplans seen in many. The rooms in common areas are mostly defined and closed in by walls or partial walls. Some people like the separation, others do not. The first line item in a lot of remodels is to open up the space. Barrier walls between kitchen and family room, dining room, even bedrooms are desired. These changes can help traffic flow, sight range and just makes things feel bigger. Keep in mind load bearing walls are just that, and you must make sure there is reinforcement before it can be removed. It's always wise to consult with a reputable contractor that can advise for correct wall removal. If there is plumbing, electrical or duct work in the wall, it will have to be relocated. Sometimes this can be a cost deterrent. So what do you do if that happens?
If structural changes aren't in the game plan, there are some things you can do to achieve more functionality in a remodel.
In the kitchen it's all about organization and storage. New cabinetry with pull out shelves, spice racks, and corner drawers can open up dead space and allow for more storage. Built-ins in the eating area, or extending counters can also increase surface space. Sometimes reconfiguring the fridge, stove and appliances can create better prep and traffic flow.
The same premise can work in the bathroom. New cabinetry that houses more toiletries, towels and even laundry will free up cluttered space. Sometimes reconfiguring the shower and eliminating the tub will make a bathroom feel much bigger. The laundry room is another often neglected space that often needs some better cabinetry, cubbies or hanging racks to get things organized and manageable. Finding organizational answers will eliminate the clutter that can over power a house.
After those issues are solved, it's time to consider color palate. Smaller homes need color that joins everything together. Different colors in the bedrooms are fine, but the common areas need fluidity and continuity. A good neutral color that's warm, cool, or in between will make the house feel open and fresh. The pops of color can be integrated in the kitchen backsplash, countertops, flooring and your decorative touches. Creating a calm background color will allow for different colors from furniture, art and accessories to come into sight.
Remodeling a home involves consideration of the homeowners' preferences, lifestyle and structure of the house. Choosing a contractor that can address all of these factors will help the client achieve the results they want. Sometimes it takes guided interviews and information impartation to help the client understand what the finished product will allow for in form and functionality. Once that understanding is reached it's time to get started!