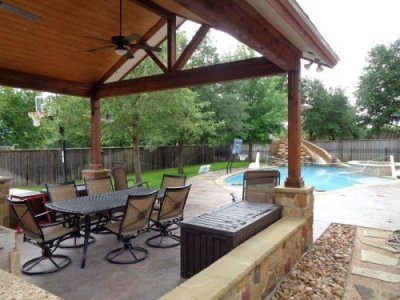 With all the wonderful sunny weather in the Brazos Valley, Texas, homeowners like to spend a lot of time in an outdoor living space. That sunny weather can become excessively hot, however, and force people back inside the air-conditioning. Creating a perfect garden oasis can help you enjoy the outdoors more often without risk of sunburn or heat stroke.
Choose a section of your backyard or a corner near and angle of the house to turn into a comfortable spot for relaxation and entertaining.
Your Home is the Backdrop

Always remember that the wall of your house provides the backdrop for any garden or landscaping style. Start with a home remodeling service in College Station, TX for painting or other wall cover installation. Stone facing and Hardie-Plank siding are two very popular choices in this region of Texas. They are both durable and very attractive.

Construct an Outdoor Living Space

What type of structure build in this section of your yard depends on what you intend to do with it. Decks and patios are both popular as solid surfaces for outdoor tables, barbecue grills and sunbathing. A professional deck builder in College Station, TX can survey the area and tell you the best options. One level and multilevel decks are able to be built in almost any yard.
Because of the hot sun and highest temperatures in the Brazos Valley area, a garden oasis should include some structure to provide shade. This will not only make it more comfortable for you to sit outside, but will also help shape the house and possibly reduce power bills. Arbors/pergolas are excellent choices for this purpose. In fact, pergolas in College Station, TX are built very frequently above flat decks and patios to extend the living area outside of the house.

Choose Texas Style Landscaping
Once the painting or Hardie-Plank siding is complete, the patio or deck laid and some sort of shade structure installed, it is time for landscaping. Because Texas has a hot climate, it is good to choose plants that are native to the area and very heat and drought tolerant.
If you want more privacy and shade in your backyard garden oasis, consider a creeping vine to climb up and over the arbor or pergola covering part of the deck or patio.
Some decorative tree options that do well in Texas include oaks, desert willow, althea and hollies. Bushes or shrubs can be used for more privacy and shade. Popular options include Texas mountain laurel, flowering spirea, desert-style yucca and Texas sage. Liven up garden beds or position large flowerpots along the edges of your deck and patio. Great plants for these options include showy hibiscus, marigolds, roses and the ever popular Texas bluebonnet.
The hot Texas weather invites people to enjoy the outside, you can get oppressive if no shade is provided. Through clever planning and planting, you can create a garden oasis perfect for your family and entertaining guests in your outdoor living space.