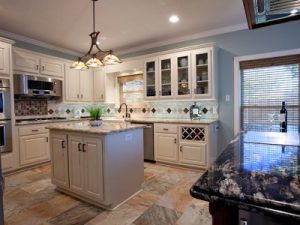 If your home needs a lot of updating, it can be difficult to prioritize the work that needs to be done. While a coat of paint can make the place feel like new, you might want to hold off on painting any areas that might need new fixtures, like a bathroom. Here are some ideas to get you started.
Find out want needs to be done
While you may associate a home inspector with buying a new house, getting an inspection before renovation can help you decide where you really need to spend your money. An inspector checks the structure of your home and its systems like air conditioning, plumbing, and electrical. You'll find out if there are any safety issues and if you have enough insulation. A home inspection is a great first step to home remodeling.
When you fix any major issues in the home it's time to decide what sort of general remodel work you want done for your home.  You can do this by assessing your priorities and what areas of the home matter the most to you.
Hire a reputable professional to do the work
A good local builder can help your project move forward quickly and easily. If you have home renovation projects in College Station, TX hire a local construction company. Choose one that has been in business for a long time and knows the area. With that knowledge and experience you can get better deals than if you go with a newer company.
A professional can help you decide what work needs to be done and when.
Windows
Replacing windows can increase energy efficiency while adding light. Suntunnel Skylights add light to your space as well. Here in Texas, we have a lot of sunlight to take advantage of.
Adding living space
Adding additional living space doesn't have to cost a lot of money if you add on a screened porch or sunroom.  Decks and pergolas also provide additional living space particularly in Brazos Valley, TX where home remodeling includes the outdoors because of the beautiful weather.
Updating your kitchen and bathroom
When someone is remodeling their home, the kitchen and bathroom are the targets of a lot of the work. Updating fixtures, replacing countertops, or gutting the whole thing and starting from scratch are all on the table depending on your budget. This is where working with professionals is key. They can help you decide what work will be within your budget and what you can schedule for another time.
There are some projects you can handle yourself with the right instructions if you like to DIY. Installing fixtures, painting, and installing new flooring are all options.  If you do it right, it can blend in with the professional work you had done in other areas of the house. If you're not very handy, don't fret. There are plenty of professionals willing to help. Home remodeling in Brazos Valley is popular right now, so hire someone you can trust to do the work.