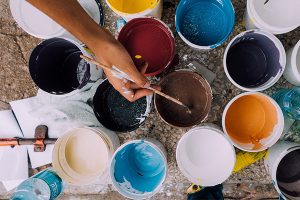 So, you scored the dream house. You already know that you'll want to take down that outdated wallpaper and paint in the living room, the master bedroom, maybe even the kitchen. The question is when: do you paint before moving in or after? There are advantages to both options. Many homeowners feel they won't be able to properly judge what color they want until they've lived in the space. Some have a short timeframe in which to move and have to save the paint job until after the move. However, if you can afford to wait, there are several benefits to painting before you move in.
It's Easier
Painting is one of the easier home improvement projects, but it can still be a pain when you have a fully furnished room. Everything has to be tarped down so that paint doesn't end up anywhere it shouldn't (like your new sectional or rug). Things have to be moved back and forth so that you can cover the whole wall. You have to live with the smell of wet paint until it dries. But you can avoid all that by painting before you move in. In an empty room, you won't have to worry about wall hangings or moving furniture. You'll even have a little room to make a mess.
The ease of painting before you move in still comes in handy if you decide to hire a professional painter. The easier the job is for the painters, the less time it will take. The less time your paint job takes, the less you'll be charged at the end of the day.
You Won't Have to Live With Toxic VOCs
Remember that charming wet paint smell? That actually comes from the volatile organic compounds (VOCs) emitted into the air when you paint, and it can be pretty bad for you. Significant exposure to VOCs cause headaches and nausea, and it can even cause damage to your liver if you're exposed to it for a long period of time. Fortunately, VOCs dissipate with time. If you paint your house before you move in, your air will be nice and clear again by the time you finally move in. And of course, it will smell a whole lot better.
It's One Less Thing to Stress About
Moving can be a stressful process all the way through. Buying the home can be stressful, selling your old home and moving out can be stressful, and home remodeling can certainly be stressful, especially if you have to live through the remodel. So don't. If you have all the painting and remodeling done to your new home before you move in, you can walk into a brand new space that's already custom-remodeled to your tastes. Imagine walking into your home on move-in day and seeing a fresh, neat coat of paint. All you have to do is unpack and start enjoying your dream home.
You can also ease some of the stress of moving by trusting a professional like Windham Construction to take care of your paint jobs. Windham Construction has 20 years experience providing excellent home remodeling service to Bryan-College Station. They'll take care of your paint job with ease and quality, so you don't have to worry about it. Contact them today for a free estimate.