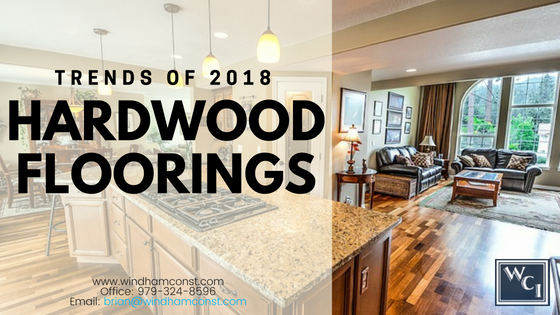 Hardwood floors have been the favorite of homeowners for decades, and 2018 is no exception. They're smooth, beautiful, easier to clean than carpet, and you can always embrace your inner child by sliding around hardwood floors in your socks. Whether you prefer a rustic design for your home, a classic colonial style, or something sleek and modern, hardwood floors provide an attractive solution.
So it seems almost redundant to talk about hardwood floors as a trend of 2018. Instead, let's talk about the trends within hardwood flooring.
Hardwood All Over
What we have noticed this year is an uptick in how much hardwood flooring homes contain. For some time, hardwood has been a popular choice for living rooms, bedrooms, hallways, and the like. However, this year it seems as though you can find hardwood in just about every room. Many homeowners are redoing their kitchens and entryways in order to make the switch to hardwood floors. True hardwood remains a risky choice for bathrooms, because of the propensity for water spillage and humidity. However, with advances in engineered wood or faux hardwood, you may even start to notice hardwood bathrooms soon.
Faux Hardwood
Sometimes you want the look of hardwood, but you don't want the maintenance or cost of hardwood flooring. In that case, you might be interested in faux hardwood flooring. You can find laminate flooring for your kitchen that has the authentic look and texture of wood with an overlay of plastic that keeps it waterproof. Vinyl, however, can be made to mimic the look and texture of wood, and it's much more affordable. Cork flooring is becoming a popular alternative to true wood flooring, partly because it's a green choice. It can be made with recycled cork, and if you decide to take it out, it can be recycled itself.
Reclaimed Wood
Another green option when it comes to hardwood flooring is to use reclaimed wood, and with our society becoming more and more environmentally conscious, this option has really taken off in 2018. Reclaimed wood requires no additional trees to be cut and there's much less production effort. It also often comes with rich character and texture that homeowners prefer stylistically. If you prefer a rustic style for your home, reclaimed hardwood flooring is a perfect choice. The grooves in the wood are a little deeper, and the discoloration can be seen throughout. Some even prefer to use reclaimed wood that's mismatched, using some boards that have been painted and others that haven't, for an added touch of character.
What do you think about the recent hardwood floor trends? Are there any that could be right for your home, using either traditional hardwood floor, reclaimed wood, or wood alternatives? If you're interested in making a switch to hardwood flooring, you can trust Windham Construction with our 20+ years of experience in Brazos Valley as your remodeling contractor. Contact us today for more information or a free quote for your next remodeling project.