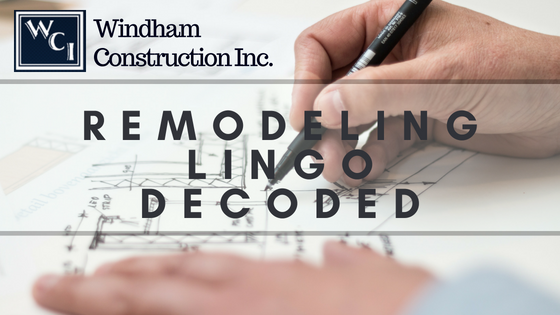 When you're reading over a construction company's qualifications or getting a quote for your remodeling project, sometimes it seems as though they're speaking in a different language. If you're not an expert, it's easy to feel lost and confused by the conversation. However, you want to be sure you know what you're signing up for, both in the company and the project itself. So let's break down some of that remodeling lingo today.
Certified
If a construction crew or contractor is "certified," it means that they've been approved by a registered organization in their industry. One of the main organizations in the remodeling industry is the National Association of the Remodeling Industry ("NARI"), who certified Windham Construction. There's also The International Code Council (ICC). The ICC shows that this contractor or construction crew complies with international industry codes, while NARI goes into more specifics. NARI certifications are given out to contractors and construction companies who show a high level of professionalism and expertise and who are specific to the remodeling industry.
Licensed, Insured, Bonded
Often, you'll hear these three terms in conjunction with one another. Licensed means that the construction employees or contractors are licensed to work in a particular area. Texas doesn't license contractors at the state level, but often a license shows a degree of respectability for the business. Insured means that the construction company has insurance so that in the event of an accident on the project, you won't be held liable and won't have to pay for it. Ideally, they should have personal liability, property damage coverage, and workers compensation. Bonded means that there's a bond in place to protect the project, by guaranteeing that any damage or construction defects will be repaired or the client's money will be reimbursed.
Construction Manager/General Contractor
A general contractor is a little different from a construction manager. The construction manager works for the construction company on the whole and is there from the beginning of the project. They're a go between for the owner and the contractor. The general contractor, on the other hand, is independent and hired by the construction company through a bid process to oversee the day-to-day of the project. They most likely bring with them subcontractors and oversee their work. The construction manager will likely work with many local contractors to find the right person for your job.
Allowance
Typically, there's your budget and then there's the allowance. The budget is what you're willing to pay provided everything goes according to plan. However, that rarely happens in construction, so it helps to have a supplemental budget or amount of money set aside called an "allowance." This covers any decisions made after the project begins or any unexpected obstacles that might arise over the course of the project.
Change Order
Sometimes it's not until the project starts that you realize something you want to add, or want to remove. In that case, a change order is written out to adjust the original order — and the cost of the original order — to the new specifications. As with most things in construction, it has to be in writing.
If there's ever a term that a construction or contracting professional throws out that you're unsure of, don't be afraid to ask. At Windham Construction, we have over 20 years of experience in Brazos Valley, which means we know all the terminology and we're happy to clarify whatever you need to know. Simply contact us for more information.