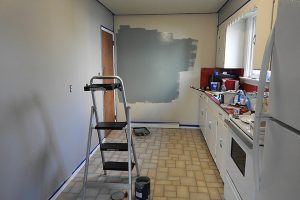 When remodeling your home, timing is everything. You have to coordinate them with your own schedule–will you have time to be home when needed, or better yet, to get away from home when needed? But the time of year is also a key factor. The idea of doing outdoor work in the coldest part of winter or hottest parts of summer never seems ideal, but might also cost less than having similar projects done in milder months.
The truth is, the perfect time of year depends on a combination of the work you have in mind, your own schedule, and your climate. That said, certain projects and certain times of year just fit together. Here's the best time of year for some common remodeling projects:
Adding a Sunroom – January
The whole concept seems wrong: why would you have a sunroom installed during one of the darkest, coldest months of the year? The idea having all that work done in the cold might sound uncomfortable, but winter is the best time of year for home additions like a sunroom. You can beat spring with all of its rainy days, which means the remodeling may take less time. If you plan to build a new room, rather than convert an existing room into a sunroom, the lack of humidity makes for easier digging. And because winter is a slow period for most construction professionals, you may even be able to get a deal.
Replacement Window Installation – April or September
Most homeowners have replacement windows installed in the summer or winter, partly because that's when they notice the need for replacement windows. They may notice that their windows are letting too much air in, that there's a draft during the winter, or that the windows are hot to the touch during the summer. But the best plan is actually to have replacement windows installed in the spring or fall, and not just so that you can enjoy the benefits of new windows all summer and winter. It also tends to be cheaper, since again, there's less demand for energy efficient windows in spring and fall.
Bathroom and Kitchen Remodels – July
Interior home remodels can be distracting, so it helps your peace of mind to get away from home as often as you can while the work is being done. That's why it's a good idea to have bathroom and kitchen remodels done in the summer. Whether you go on vacation or just spend the day out while construction is going on, it helps you to stay sane and the workers to do their work undisturbed (though keep a phone on you in case the contractors need to reach you). Also, any roof work requires a certain amount of heat to seal it in, so often contractors prefer to do this kind of work in the summer.
The most popular time to have remodeling projects done is not always the best time. Often, you'll benefit from the savings and efficiency of having the project done before the other work orders start to flood in. The right contractor can make sure that any home remodeling project is finished efficiently and comfortably, no matter what the time of year. Windham Construction has been in business in Brazos Valley for over 20 years. We're home remodeling experts and we're happy to share our expertise with you as you plan the perfect time for your remodeling projects. Contact us today for more information.