With the right construction company to help with your remodeling project, any time of year can be a good time of year for remodeling. However, remodeling professionals often find spring to be the start of their peak season and homeowners often see spring and early summer as the best time of year to start their remodeling projects.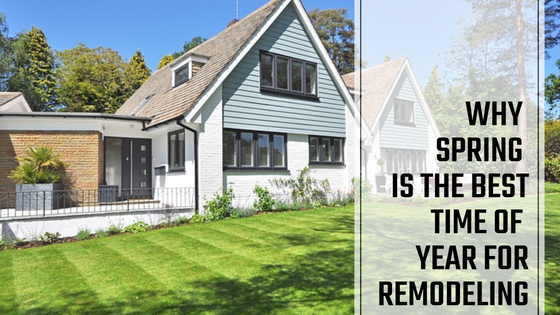 It's the season of spring cleaning, of refreshing and making improvements. Here are a few reasons why so many people find spring to be the best time of year for remodeling.
You've Lived With Your Home's Flaws All Winter
Because of cooler temperatures, winter is the time of year that people tend to spend most indoors. Because you're at home more often during the winter, you become more acquainted with all of the quirks of your home, both good or bad. It's in winter that you'll be most aware of that draft in the living room or how tired you are of the wallpaper in your home office. The holiday season may also make you painfully aware of a need for a larger kitchen or dining room.
Often throughout the winter, homeowners find themselves creating a checklist in their minds of ways that they can improve their homes. So when the snow melts and the sun comes out again, what better time than now to get started on those renovations?
The Weather is Warmer, But The Kids Are Still in School
While summer is still a popular season for home remodeling projects, homeowners may have to juggle with kids running around the house during the time of a remodeling project. This is another advantage that spring has when it comes to remodeling projects. The longer days and warmer weather are here, but the kids are still in school, which makes the remodeling go more smoothly overall. It will also make a nice surprise for the kids on the last day of remodeling to come home from school and see the finished project.
The Tax Returns Are In
It's no secret: remodeling projects are no cheap. But if you've been in need of a remodel for some time, it might be worth the money spent to hire a professional contractor to remodel your kitchen, bathroom, deck, and so on and so forth. One way that the timing of spring is perfect is that it's tax season, which means it's time to get your tax return. People often prefer to use their tax returns on one big project or venture that they wouldn't be able to afford otherwise — why not take care of your remodeling with this year's tax return?
This spring, or any other time of year, Windham Construction can help you with any of your remodeling needs. We are a family owned company with over 20 years of experience in Brazos Valley. We handle anything from deck and sunroom installations to kitchen and bathroom remodeling to window installation and painting. Whatever your project might be, contact us today. Tell us what you're looking to do in your home, and how we can help.