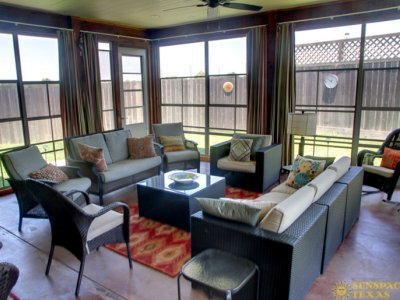 Contracting a expert in home remodeling to adding sunrooms and screened porches to your home is just about as complex as adding an entire new enclosed room. They use the same structure, need electricity run into them and have added complexity of many windows and even skylights that need to be handled and installed professionally. When you find the right contractors to handle this general remodel project, you can rest assured they will do exactly what it takes to have the perfect sunrooms/screened porches added to your home.
Sunrooms and Screened Porches to Your Home
Here is how it works from start to finish:
1 – The foundation is either prepared, poured or constructed for the sunrooms and screened porches to your home first. If there is no existing structure in the place where the new room will go, a concrete slab is constructed to support the sun room or porch. They can also be built on existing patios or even decks.
2 – Framing of walls and the roof is done next. The roof must be tied into the existing house so it may be necessary to open up a wall or existing roof line. This is done in much the same way as building an actual room on a house using 1×6 and 2×4 boards. The framework has to be sturdy enough to support all the glass windows for the sunroom. If a screened porch is being constructed instead, the builder may not worry as much about it being super strong instead of lightweight and cost effective.
3 – All utilities such as electricity is run into the new construction and hooked up so it functions properly. Most sunrooms and screened porches at least have a light inside so you can use it any time of the day or night. Ceiling fans are also popular additions unless the roof of the building is also completely glass or screening.
4 – Floors and walls of the new construction are finished. Some insulation may be added especially in sunrooms. In most cases, these types of additions have either cement, stone or tile floors, though hardwood is another option. Some people opt for outdoor carpeting as well, although it is not considered very stylish these days.
5 – Windows, skylights and screens are installed and secured next. If there are any doors to either the rest of the house or to the outside, they are also hung at this time. Sunrooms and screened porches frequently open up onto an existing deck or patio in the backyard to further extend the living area to the outdoors.
6 – All finishing construction is completed at the end. This includes replacing or repainting the shingles, brick or other material on the outside of the house and the newly constructed room, painting the interior walls, window trim and ceiling and completing any other cosmetic procedures.
7 – The final step in the creation of a sunrooms and screened porches to your home is to decorate and enjoy it. Bring in plenty of seating, some lighting so you can enjoy the new room after hours and any decorations such as houseplants that you enjoy best.