TV programs, magazines and the internet show us homeowners many million-dollar remodel projects that transform an old, out-of-date house into a dream. I admit inspiration is great, but I also realize that when you look at your budget, reality crashes back in. Even without tons of money, though, it's possible for us to update. These budget-friendly general remodel ideas in College Station, TX that I listed below can help add style and improve property value for the family home.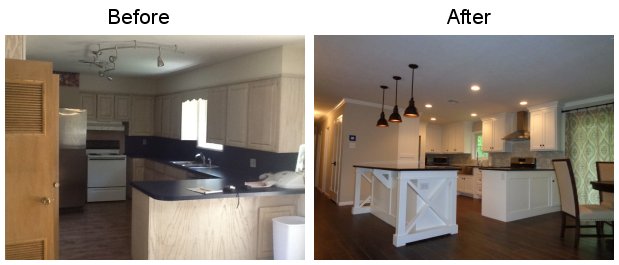 General Remodel Tip: Kitchens
Kitchens are one of the most popular rooms to get remodeled in Brazos Valley, TX. Redoing the whole room can cost tens of thousands of dollars depending on what materials you choose. To save money, I recommend that you focus on only one thing at first.
Here are a few affordable transformations I want to suggest. Replace kitchen counters with a modern material and style. Repaint or re-stain cabinets. Light or bright colors or espresso dark are in style right now. Add a tile backsplash in an eye-catching color or pattern. Vinyl tile or laminate flooring is affordable, attractive and durable too.
General Remodel Tip: Bathrooms
Since bathrooms are smaller rooms, I have found that a general remodel is usually less expensive as long as fixtures are not being replaced. Cabinets can be refinished and painted or stained easily. Replace the old shower curtain with a built-in glass door. Add contrasting tile trim to the existing tile work for a boost of style. Replace old light fixtures with more modern choices.
General Remodel Tip: Living Rooms
Much of our at-home time is spent relaxing in the living room. It is the place where most guests are entertained too. This makes it the perfect place for a bit of budget-friendly general remodel action.
Painting walls a pale neutral always makes sense, but try one wall with a bright or dark accent color. Install crown molding or wainscoting to give the room a touch of elegance. The old brick fireplace may be an out-of-date eyesore. Have the surround refinished in tile or stone and add a new wooden mantle and trim.
General Remodel Tip: Exterior
Don't forget the outside of the house for a general remodel in College Station, TX. While painting the whole exterior or installing siding may be financially out of reach, there are still some great opportunities to spruce things up with the help of a professional.
Painting the front door and all trim on the front of the house is a great place to start. Try a bold color for a splash of interest. In the backyard, consider installing a new deck, extending an old one or adding a pergola or gazebo. These remodels definitely make it easier to enjoy the great outdoors, especially in hot Texas weather.
Although remodeling and home renovation in Brazos Valley, TX could be just as expensive as you see on the home design TV shows, we don't need to make that kind of investment to improve our homes. With the right ideas and experienced professional to help, even smaller projects can make a difference.