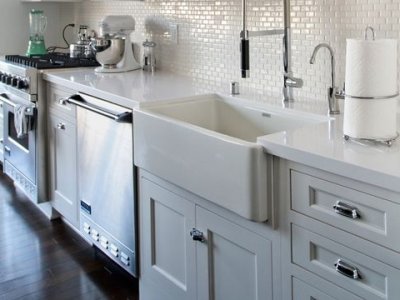 Whether you have owned your home for a few months or many years, all homeowners can benefit from a home remodel. Remodeling projects greatly vary – are you looking to spruce up a fireplace surround, or is your home in need of a complete home makeover? If you feel it's time for a home overhaul, a remodel can make your dreams come true and help you turn your house into the home you've always imagined. Before you get started, however, know that the remodeling process itself can give you nightmares. You should proceed with caution if you are thinking about a home remodel. Read on for more guidance on this endeavor.
Before you even start the process, you must first set aside a budget for this project. How do you know you have enough? Put together a list of your desired remodel projects and get an estimate from several contractors; this will give you a good idea of what your home remodel will cost. How do you look for good contractors? Begin by checking the phone book and websites for contractors in your area. Ask friends, family and coworkers if they have any personal experience working with a contractor they would recommend.
When searching for the right contractor, remember to check their experience and expertise. Have they been in business for a long time? Do they specialize in particular remodel projects? It is also a good idea to ask for references. A good contractor will have many references to share with you. Be wary of those who don't as this could be a sign of inexperience or a contractor who doesn't have a good working relationship with clients. If they have one, ask to view their portfolio of past home remodels to see what the contractor has accomplished. Work with someone you trust. You want to get quality results within your budget.
The Next step is knowing what you want to be accomplished. If you aren't sure exactly what you want, work closely with your contractor; they will be able to give you technical insight and experience-based knowledge that will help you decide where to spend your remodeling budget. Get a blueprint of your house and determine which parts will need the renovation. Are there things that need immediate structural repair? Perhaps there are cracked walls, or weakened beams, or damaged sidings. These things should get the foremost attention.
Be certain of the new look that you want to have for your home. You may want to get suggestions from a professional so they can help you realize your home remodel ideas. Planning and design always come first before any work is begun. Keep in mind that kitchen and bathroom remodeling add a lot of value to your home, but they are also more difficult and more expensive due to added plumbing and electrical requirements.
Here are some questions to ask yourself in a home remodel project:
Do you want a good landscape for your lawn?
A nice façade for your home?
How big is your living room and what type of furniture do you want for it?
Do you wish to have a separate entertainment room for your latest home theater system and other electronic gadgets?
What theme do you want for your kitchen and how big should it be?
What appliances will you get for your cooking needs?
How space should the dining room be?
What kind of lighting do you want for it?
How many bedrooms are in the house?
What specifications do you want for each?
How many bathrooms are in the house?
Do you want a consistent look for them?
Would you consider getting a bathroom suite for this?
Remember that besides the aesthetic features that you may want to improve, note also the soundness of the functional features of the house like the electrical, plumbing, and air conditioning systems.
Know the timeline for the home remodel to be finished. Work closely with the contractors. You should be updated with the progress as frequently as possible. Ask questions about the remodel should you have any. Remember, once the work is finished,you should come home to the house of your dreams!