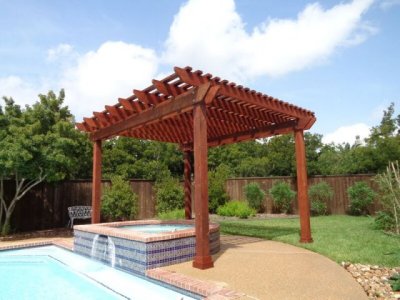 The living space outside your home is just as beneficial to you and your family's comfort as the indoor areas are. Outdoor entertaining and relaxation are very important in our hot. Installing unique outdoor pools, patios, pergolas and other external features can help turn a normal expanse of lawn into a true oasis of tranquility and fun.
For many homeowners, enjoying the backyard in the hot summer months begins with a sparkling blue swimming pool. Considering the exterior style of your home, you can select from many different pool shapes and sizes to suit the overall look of your property. If your house is a very traditional brick façade with columns, a rectangular pool etched in a wide brick and cement patio might match your taste. If you have a home that features natural stone and wood beams, a more free-form pool surrounded by rocks and plantings may be more your style.
Outdoor Entertaining
No matter what shape and size of pool you have installed, what really adds to the enjoyment of the area is all the hardscaping and structures you have built around it. After all, a pool is not just for swimming in. You may also want to entertain poolside or relax on patio lounge chairs and invite friends over for a pool party – complete with an outdoor kitchen.
The area directly surrounding the pool should be covered with a solid flooring such as cement, stone or brick. Some also use wood decking to form the platform for chairs, tables and walkways. The solid surface gives you not only a place to gather and relax but also increases pool safety.
Once you have made the decision about what material will surround the swimming pool, it is time to consider your comfort and enjoyment of the area more closely. Although most people purchase tables and umbrellas to provide some shade, a physical structure built into the landscape scheme will cause less problems in the long run. After all, it won't blow over when you're trying to eat and it will last much longer by resisting damage and wear.
If you have a large property and room in the budget, you may want to consider having a pool house built to give you and your guests a convenient place to change and to rest out of the sun. Some prefer a quaint gazebo complete with benches around the outer edge. A straight roof over an outdoor cooking area can provide even more benefits. If your family enjoys uninterrupted entertaining and barbecues, this will allow the grill to continue cooking and also protect guests should the weather deteriorate.
Another structure that can provide some shade and relief from the direct sun is a pergola. These do not have solid roofs but, instead, feature a sturdy structure with vertical wooden boards across the top to provide partial sunshade. These can be left as is, may be covered with a cloth or curtains or have a vine grown up them to provide more shade and beauty in the long run.
Isn't it time to build your perfect backyard oasis? Outdoor entertainment, fun and relaxation are only a few steps away. Please call us today to discuss these and other options for your outdoor space.