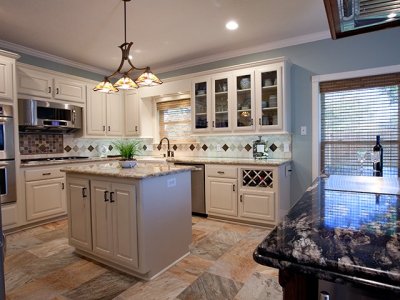 Kitchen Home Remodeling
Kitchens are the rooms in a house that people most want to remodel. It is one of the most used rooms in the house, other than the bathroom, and people come together in the kitchen for family meals and fun times. If you want to undertake a kitchen remodeling in College Station, TX or Bryan, TX, there are five basic steps you will take to transform either an empty space or an old, out of date kitchen into a new style you can be proud of.
1 – Get Inspired and Plan Your Dream
Cut out pictures from home magazines or browse online to get ideas about what styles and accents you would like in your dream kitchen. The first step is inspiration. The next step is tempering those dreams with your working budget.
2 – Hire Someone Who Can Make Your Dream a Reality
Even the best kitchen home remodeling in Bryan, TX cannot make the impossible happen when it comes to the design of kitchens. Within the bounds of reality, however, there are innumerable options to turn this most popular room of the house into a place where cooking and spending time with the family is perfect.
Always hire professionals who are licensed, insured and experienced in the type of kitchen remodeling you want done.
3 – Floors, Walls, Ceiling and More
Whether you are faced with an empty room in a new construction house or have had your old kitchen torn out for a complete remodel, the floors, walls and ceiling comes first. Flat painted ceilings are popular these days, but an expert home remodeler may suggest exposed beams or other accents to make the space more unique.
The floor should be durable and easily cleaned, which means that stone, ceramic tile and wood planks should be sealed properly. Other less expensive options include vinyl tile and laminate flooring. Painting the walls allows you to be more creative. Perhaps you would like a bright accent wall, paneling and a chair rail or even an extended backsplash that spreads the tile across more of the wall surface.
4 – Cabinets: Make Sure Everything Will Fit
The professional home remodelers in Brazos County, TX understand how to arrange the cabinetry in a kitchen to leave plenty of room for standard size appliances. If you have an extra-large stove or fridge, cabinets must be designed around them. Work closely with the cabinetmaker or home remodeler to make sure you have enough cabinets that are easily accessible. There are many options for drawer or shelf styles and inserts that that you get at things even at the back of the shelf without a problem.
5 – Appliances, Plumbing, Fixtures and Hardware
When the floors and walls are completed and the cabinets installed, the movable parts of a great kitchen are added. An expert from professional handyman services can help switch out old appliances for new and add fixtures and hardware like overhead lights or ceiling fans and cabinet handles and drawer pulls.
These five steps will guide you through the kitchen remodeling process whether you are having a home built from the ground up or tearing out an old kitchen that needs revitalization.