Summer Entertaining – Outdoor Living Spaces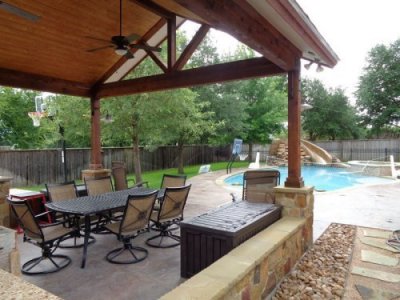 A few folding chairs on the lawn and a grill on the patio may be how most people think of outdoor summertime entertaining, but if you are serious about outdoor living spaces and having friends over for dining al fresco or just having fun in the cool evenings under the stars, you should consider a home renovation in College Station, TX project that will greatly improve your outdoor living spaces.
Outdoor living spaces need three main things: protection from the weather, a platform that gets you off the grass and gardens and plenty of places to sit. The ways in which you tackle these three needs depends largely on how extensive the general remodel projects you want to undertake are and how much of a budget you have to work with.
Here are some home remodeling in Brazos Valley, TX ideas to consider:
Sunrooms/Screened Porches
While sunrooms and screened porches require a more extensive construction project and cost more than other options, they also provide more comfortable spaces for living a semi-outdoor lifestyle. In fact, a sun room simply lets the sun in to warm the bright, airy space and is more of an indoor spot than an outdoor one. It does allow the homeowner and her guests to enjoy a nearly unobstructed view of the landscaping and yard.
Screened porches let fresh air in as well and are usually much easier to construct. Screening is frequently stapled neatly to the inside of existing framework on a porch or deck.
Arbors/Pergolas
If there is already a deck or patio attached to the house, the addition of an arbor or pergola can help block some of the hot Texas sun without blocking the fresh air and full outdoor experience. Home remodelers in College Station, TX can easily add an overhead semi-solid roof to a deck area. These arbors or pergolas provide only minimal protection from the sun, but the partial shade can be enough to extend the use of an outdoor living space. Another option is to grow a vine or other climbing plant over it and thus afford more shade.
Decks and Patios
When it comes to providing a platform for friends and family to sit on, nothing is better at creating an outdoor entertainment spot than the addition of a deck or patio. These can be as simple as a flat wooden platform or a slab of concrete or as extensive as multi-level constructions with built in seating and grill station. They can include space for a hot tub or spa, planter boxes for pretty flowers and even private entrances to upstairs bedrooms.
When summer approaches and homeowners get ready to invite friends and family over for their hot weather parties, they need to provide the perfect place to hang out and have fun. Experienced professional home renovation experts in Brazos Valley, Texas region can help you decide whether a sunroom or screened porch, arbor or pergola or just an attractive and functional deck or patio is right for your home and outdoor living spaces.