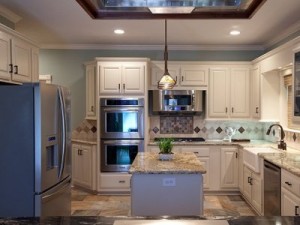 When you're looking for a place to live, the kitchen is one of the most important considerations in your decision. The kitchen is one of the most important rooms in any household. It is often the one room where a family can gather on a regular basis. Besides being the place where food is prepared, a kitchen is also a place to greet your loved ones, share a snack or even help with homework.
It could be said that the kitchen is the heart of any home. Making just a few changes to your kitchen can really improve your the rest of your house. If you've thought about remodeling your kitchen or if it has a few elements that you'd like to improve, it's a good time to start thinking about home renovation in College Station, TX.
Here's why you should make the remodeling choices you've been considering.
More Comfort, More Happiness
As one of the most frequently used rooms in your home, your kitchen needs to be comfortable. A cramped or poorly designed kitchen can quickly take the joy out of cooking or make relaxing conversations impossible. Anyone who has tried to cook a delicious meal in a small kitchen with dated appliances understands how frustrating this can be.
Imagine the difference it would make for your kitchen to have plenty of room to move, cook and chat. Installing a new kitchen island and larger counter tops can make cooking a breeze. New cabinets and state-of-the-art appliances will have everything that you need to cook world-class meals right at hand.
The more comfortable you are in your kitchen, the happier you, your family and your guests will be.
Reduce Your Stress
There is nothing more stress-inducing than trying to cook a meal or put away the groceries in a kitchen with old appliances and limited cabinet space. Trying to light a stove that doesn't work or trying to use a microwave that barely powers on can make your kitchen a storm of stress.
Home remodeling in College Station can cut your stress in half. A brand new refrigerator with double doors and sliding storage compartments can give you plenty of room for all of your groceries. A new stove with infrared elements will never need lighting and cook your food more efficiently. Update cabinets can store all of your dry goods neatly so you never have to hunt for that missing ingredient.
When you reduce your stress in the kitchen, you can enjoy meals and family time more easily, making everyone in your house feel better.
Increased Property Value
There's a reason that a well-designed kitchen can improve the value of an entire house. This room is crucial to the happiness of the homeowners and property developers know that many home buyers will insist on a great kitchen.
If the kitchen in your home is in need of some work, you'll be glad to know that a remodeled kitchen can improve your property value. When people are shopping for a new home, the kitchen is one of the first places that they'll look.
Home remodeling in Bryan, TX can make one of the most important rooms in your house into a stress-free, exciting place to be.