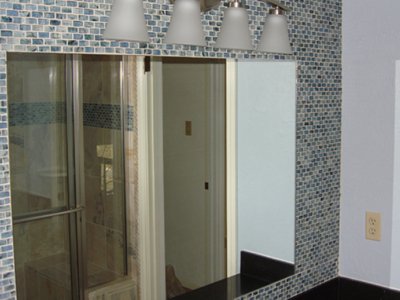 Although they are not usually the focus of much attention, bathrooms are some of the most frequently used rooms in the house. A general remodel of the bathroom can it not only make your home life more comfortable, but can also increase the overall value of the property if you in the future. If you are stuck with outdated fixtures and odd tile colors, consider some of the following more modern bathroom ideas before you contact your home remodeling in Brazos Valley, TX experts.

Combine Natural Light with Privacy

Small bathrooms look better if they are well lit with natural light. This can also help you pick out a matching outfits or apply your makeup in the morning. However, unless you live on a very large property with no nearby neighbors or traffic, you may not want a large open window letting in not only the lights but also other people's attention. Curtains or blinds are an option, but combining the light with the privacy during a bathroom remodeling project makes more sense.
The choose window designs that are perhaps smaller than other windows in the house and did not use clear glass. Frosted or beveled glass is an option because it lets in just as much light without being see-through. Another option is the installation of Suntunnel Skylights, which led in natural light from above without any risk of voyeurism.
Turn the Bathroom into a Spa Oasis for Relaxation and Revitalization

Expert home designers can offer you a wide selection of tile types, fixtures and cabinetry for your bathroom remodeling in Bryan, TX job. Some of the most important things are the shower and tub. After all, these are the places you unwind after a hard day's work or get rejuvenated for a new one.
Consider having an extra small wall put in two separate the toilet from the bathing area. Then, choose a tub to suit your personal tastes. Some options include regular bathtubs, deeper soaking tubs or even corner or Jacuzzi options. Frequently, these are combined with the shower enclosure. A good idea to make the showering process more enjoyable is to get rid of the old plastic curtain and have a full glass enclosure installed. These can be perfectly clear, patterned or frosted based on your particular style and interest in privacy.
When the fixtures are in place and the furniture picked out, work with the home remodeler to pick the best tiles and other wall treatments to create the look that pleases you the most. There is such a vast array of tiles available that it may be difficult to pick the one you like. Home builders with design experience and expertise can give you options.
Home Remodeling in College Station, TX
Although the bathroom is one of the most frequently used rooms in the house, it sometimes does not get enough attention when a homeowner considers remodeling or redecorating. To increase the potential resale value of your home and create a beautiful oasis of relaxation and rejuvenation while you live there, hire an expert home remodeler in College Station, TX to transform your bathroom from and out of style mess to a new experience.