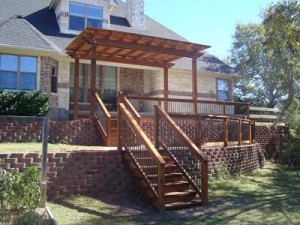 If you want to improve the look and function of your backyard, I'm convinced that nothing beats a deck. These have been popular for decades as places to relax after a day's work and entertain friends on the weekends. A single-level deck provides a sturdy floor to do that, but a multi-level deck increases use even more. Before finalizing plans with your deck builder in College Station, TX, I would like for you to consider everything a multi-level deck has to offer.
Multi-Level Deck Perfect for Sloping Back Yards
If you have a backyard that changes elevation at all, a multi-tier deck is practically essential. If you have a flat deck installed, there will be open, wasted space underneath. While I'm aware this could be covered with boards or lattice, it would still not be as attractive as another section of usable deck.
Start with a level of decking next to the house for easy access through a sliding glass door or another exit. Wide stairs can invite people to step down to the lower level and, then, on to the grass of the backyard to explore the gardens.
Separate the Private Deck from the Party Deck
This style idea is most used when there are both upstairs and downstairs decks on the back of the house. Many people enjoy having an outdoor spot right next to the master bedroom for early morning relaxation and late-night star watching. You may not want your friends and family to head up there during a barbecue, however.
Gated stairs can separate the upper tier from the lower tier in an attractive way that also improves safety if small children are present. This does not affect the style of the cohesive deck system.
Incorporate Pools, Hot Tubs, Pergolas and Gazebos
Backyard pools and hot tubs are often installed near the house and have their own deck, paving or stone surrounds. If you have a deck built at the back of your house, I would recommend extending it to go around the water feature as well. It not only gives a more unified look to the backyard but also makes using the pool or hot tub easier and more accessible.
These same rules apply to any gazebo or pergola you have in your yard. Whether your deck is one level or multi-tier, these additions make it so much nicer. In the hot Texas summers, having a spot of shade and more seating is always welcome for family and friends.
A gazebo could be built either below the level of the regular deck or above it. Pergolas frequently extend directly from the home's roof line so they would be on the top tier of a multi-level deck setup. Sunrooms and screened porches are other options for us to consider.
Whether you love to entertain tons of family and friends with Texas-style barbecues all summer long or simply want more space to enjoy quiet moments outside, multi-level decks are great options. With the right style, they can give you plenty of room for any activity and improve the overall style of your home's exterior.