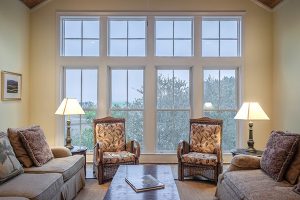 Most of us don't think about the kind of windows we have until we need to. We just look through them. Then a window breaks, or we add a room to our house, and suddenly we're shopping for new windows. With all the options available, it's easy to wonder, "Does it matter?"
The answer is yes. The right windows will help insulate and protect your home, even in the coldest and hottest times of year or the biggest storms. The right window will add value to your home, while a poor window will make you pay in utilities to make up for the poor insulation. Here are some ways to ensure your windows are airtight and prepared for everything.
Choose Double-Hung Windows
Double-hung windows have two sashes that are both movable. The top sash moves down while the bottom sash moves up. Double-hung windows are known for their airtight quality. The limited latches allow you to open the window just enough to enjoy the breeze on a nice day without any danger of small children getting out or unwanted guests coming in. The double sashes and full screen strengthen the insulation of these windows, keeping cold air out in chilly or windy weather.
Go Vinyl For Your Frames
Vinyl is a great option for your window frames for several reasons, the first being that it's more affordable than most other window frames. Vinyl window frames also include UV stabilizers to protect them from the most harmful rays of the sun. They have better moisture resistance than wood frames and don't conduct heat in the way aluminium frames do. There's also room in the cavities of vinyl frames to include additional insulation.
Keep Your Windows Low-E
With so many attempts to be "energy efficient," the fact that technology has given us energy efficient windows shouldn't be a surprise, but it's certainly a welcome advancement. Energy efficient windows will help your carbon footprint and help you save money on your utilities. Look for advanced low-E insulating glass to keep your home cool in the summer, warm in the winter, and avoid any annoying drafts.

If you're installing new windows, make sure to talk to a local professional construction group first. They can give you all the best tips for windows that will add value to your home rather than discomfort and a higher utility bill. Windham Construction has served the Brazos Valley area for over twenty years and they're committed to excellence. Contact them today for a free quote.