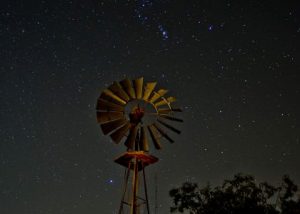 On August 21, the whole country will be able to view the first solar eclipse in 99 years. The eclipse won't reach complete cover over Texas even at the maximum view, but it will still be a beautiful thing to witness (provided you have the right glasses). You can view this once-in-a-lifetime wonder from your own deck between the hours of 11am and 2pm. But even after the eclipse, you can still find beautiful night sky views in Brazos Valley, if you know where to look.
Lake Bryan
One tip for getting the best view of the stars is to get as far away from the bustle of the city as possible. Streetlights, bright signs, and even house lights, all contribute to light pollution, which distorts our view of the stars. Simply put, the further you are from manmade lights, the more stars you'll be able to see. For this reason, Lake Bryan is a favorite spot for stargazers. It has a relaxing atmosphere, perfect for driving the RV up and camping out for the night. Just spread out a blanket and enjoy the sky full of beautiful stars. You may have to wait until late at night, however, as Lake Bryan has the Lakeside Icehouse & Grill which can cause some commotion and light pollution.
Attend a Star Party
This is the perk of living in or near a college town: Mitchell Institute and the Texas A&M Astronomy Club frequently host star parties for stargazing enthusiasts. These events are held in Simpson Drill Field Review Stands, so you can still see the stars as we see them from the ground, but the astronomy groups also provide computerized telescopes for a closer view. These parties offer a chance not only to look at far away galaxies, but also a view of our moon's craters and Jupiter and its 67 moons. "This gives people an opportunity to look up and appreciate the sky because everyone takes it for granted," says physics major, Caitlin Campbell.
Your Own Deck
You don't have to leave home and find high-tech gadgets to appreciate the stars. Sometimes the best view is the one from your own backyard. Just dim the lights of your home and step outside with a glass of wine or beer and look up. You can familiarize yourself with the constellations that you see every night, have friends over to stargaze with you, or just enjoy a quiet moment between yourself and the much larger universe.  There's no pay to view, there's no waiting for the perfect time or place. The perfect time or place is your deck at the back of your own home.
When you're ready to have a deck installed, find a local construction group who are experts in the area that you can count on to create the perfect deck for outdoor relaxation. Take a look at some of the decks constructed or renovated by Windham Construction. If you like what you see, call them for an estimate of the cost and the time it will take to construct.