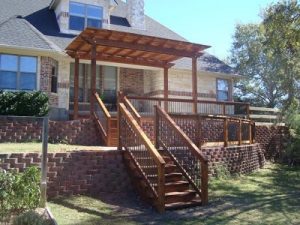 Have you ever left something brightly colored out in the sun like a throw pillow on a lawn chair?  It probably didn't take long to fade. In Texas, we get a lot of sunshine.  College Station often has hot and sunny summers that seem to start early and end late. That's a consideration for when you're going to start an outdoor project. The materials you use need to stand up to the sun and heat, but then also to times when the rain decides to fall and temperatures drop.
Wood loses its color and even treated wood will eventually give in to the elements. There is another option. Resin provides the look of wood, but it lasts much longer. With a polyresin deck, there's less maintenance because you don't have to stain it or sand down splinters.
The benefits of resin decks
Resin decks are gaining popularity because they last. They also look like wood. Instead of just having a wood colored coating, the color goes through the entire board. That means that you don't have to worry about scratches on the surface being noticeable.
While wood is beautiful, it has its downfalls. It can rot, lose color, and splinter. While the gray color of faded wood has its charms, it often comes with damage. Wood decks require regular maintenance if they're going to last.
Polyresin decks and handrails are able to stand up to the weather. They don't rot and they keep their color. For a deck that will stand the test of time, resin is an excellent choice.
Wooden decks – the industry standard
Natural wood has its benefits as well. When well cared for, it can last a long time. Using the right kind of wood is important for a long-lasting deck.
An article on Bob Villa.com has some great advice for maintaining your wooden deck. Natural materials require extra care. Wooden decks may require a lot more maintenance than polyresin, but they can last a long time if treated properly. The Bob Villa article give great details for the do's and don'ts of caring for a wooden deck. By following advice like what you'll find in that article, you'll ensure a longer lasting wooden deck.
If you're not sure which material is best for you, looking at samples and pictures of both kinds of decks might be the right move.  When looking at polyresin decks, make sure to find pictures of the exact material you're going to use because there are multiple kinds. Ask your builder for more details about resin decks.
A deck is a beautiful way to add value and functionality to your home and outdoor space. When looking for a deck builder, make sure they know about all available products like resin. An experienced professional will be able to help you make the right decision for your home. Not only do you want a beautiful deck, you want one that lasts. Resin is lower maintenance and will last a long time, but with enough effort, you can make wooden decks last as well.