Trends move quickly, and not just in the world of interior design. Your deck is a major part of your outdoor landscaping, and many homeowners put a lot of thought into both the aesthetic and function of that deck. A number of up-and-coming trends are taking over the Brazos Valley deck industry. Here are a few that stand out.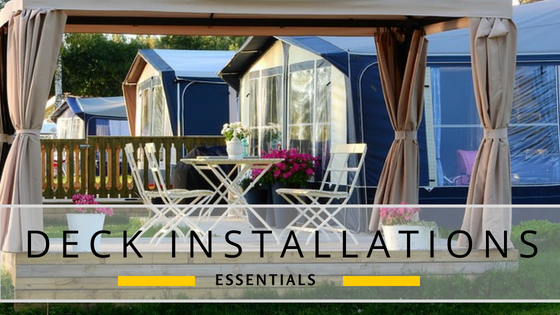 Installing a Partial Cover
The more multi-functional the deck, the better. More and more homeowners are having arbors, pergolas, or partial covers installed over their decks. That way part of the deck is still perfect for soaking up the sun and watching the stars, but part of it stays dry year round. You can place seating under the cover for extra comfort or cover the barbecue in case of rain. It's a big hit for homeowners who like to entertain in their backyard.
The Look of Distressed Hardwood
One recent trend is the desire for deck flooring that resembles the distressed hardwood popular in interior flooring. This presents a challenge for many decking manufacturers. After all, no one wants the quality of distressed hardwood for their outdoor deck. In fact, most people are moving away from wood at all in favor of composite or resin. Wood simply doesn't stand up as well to the elements. Fortunately, resin decks can be made to look like wood but last much longer. This has been the case for years, but now it's down to manufacturers to create resin decking that has the look of distressed hardwood.
Rustic Accent Pieces
However small it might be, an accent piece can really help decks to stand out, and lately, the more quaint and rustic the accent piece, the better. This accent piece could be a pergola, as mentioned in the first point, but it isn't always. A hand-knit quilt might now don your backyard deck's sofa or swing or your coffee table might be hand-crafted. Earthy colors and wood or wicker furniture fit well into this trend. These accents are charming anywhere, but there's something warm and homey about finding them on your deck.
Deck Railings
If you have young children, deck railings might be more than just an aesthetic choice: it's also practical. But as it turns out, it is an aesthetic choice of many homeowners having decks installed in 2018. The choice of deck railings is separate from the choice of decking, so it allows homeowners a little creativity and personalization. Maybe your deck has an earthy, rustic feeling, and you want to complement that with contemporary railing. On the other hand, maybe you want to keep the colonial feeling going with whitewashed railings that suit the style.
At Windham Construction, we design and install decks with your style and preferences in mind. Brazos Valley summers can be extreme, so we use resin decking, which far outperforms wood. We can also install arbors and pergolas for you to give your deck added style and function. Contact us today and tell us what you'd like for your deck installation.