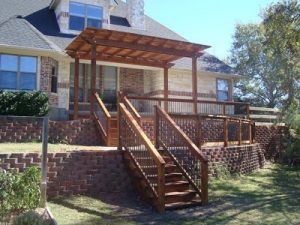 While homeowners can make their own decks, it is no easy project. It can be difficult even for experts. Some designs are more ambitious than others. There are definitely times where a professional deck builder is needed. For example, look at this DIY Network article that shows the steps you'll need to take to build your own deck. Here are some steps you can take to make building your deck go smoothly.
First, make some decisions. How big would you like the deck? It would be good to get some rough dimensions to tell your builder. Also, think about the style you would like and find pictures that will help your builder know exactly what you want. Granted, some things may not be possible on your lot or within your budget, but giving your builder an idea of what you want is a good idea.
Another thing to consider is whether you want features like a fire pit or outdoor dining. These things are better decided before your builder gets to work. The clearer the idea you have for your deck and the clearness with which you communicate to your builder will make for a better project with fewer delays.
Hiring a deck builder
Now you need to hire your deck builder. Here are some things to look for when you're hiring a professional to do the work for you:
A good builder with have insurance
Choose someone that has been in business for a long time
Find someone that can get to your project in a timely fashion
Builders that have been working locally for a long time are better because they have more connections to other professionals you may need to utilize later on.
Look for someone that can give you a reasonable timeline for completion of the work
Find a builder that will give you lots of options when it comes to design and materials
Feel free to ask for references and even look at samples of the builder's work. Then call the references. Ask the reference if they're happy with the results they got and if the job was completed in a timely manner and on budget.
Make sure you hire a builder that will give you a written estimate
You don't have to stick with the first builder you call. If you realize that they are uninsured or don't have experience, move along to the next one. You don't want your project to be someone's first attempt at building a deck, especially if they're uninsured.
A good deck builder will get all of the needed permits and take care of all of the work. All you need to do is be able to communicate what you want with your builder. Communication is key on both ends. Don't be afraid to tell your builder what you want. Miscommunication can cause wasted time and money. No one wants that to happen. So, be ready to tell your builder exactly what you need and hire a builder that will listen to you.