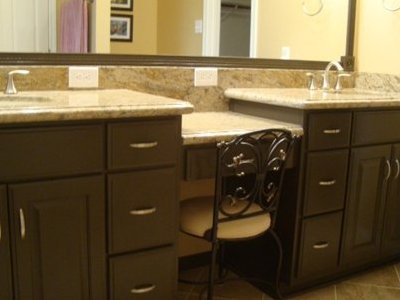 No one wants guests going upstairs to use the bathroom adjacent to a bedroom and no one wants to have to wait in line in the morning to get a shower after other family members, hoping there is still hot water left. If you have the funds for home remodeling in College Station, TX, you can have a new bathroom installed in less time than you would think.
When Should You Decide to Add a Bathroom?
If family members, friends and guests have to wait to use the bathroom on a regular basis, it is time to add another one. Also, if the existing bathroom or bathrooms are connected to bedrooms, a guest bathroom is always a great idea. This protects the more private areas of your home from traffic, nosiness and even theft.
Besides the need for more bathrooms, it is also important to consider the cost of home remodeling in Brazos Valley, TX.

How Big of a Bathroom Do You Need?
Of course every home needs at least one full bathroom with toilet, sinks and shower or tub. If your family has children, having to full bathrooms is the best idea. If your main concern is about guest use, it general remodel can be done to build a simple powder room downstairs.
The actual square footage of the bathroom you intend to create depends upon the surrounding rooms and where it can fit. Unless you are having an extension built on your house for it, space in one or more rooms will be used. Creating a new bathroom can also be done in place of a large closet.

What is a Bathroom Remodeling Project Like?
After contacting a reputable renovation or remodeling company, plans will be drawn up to decide exactly where and how you want to the new bathroom built. After that, work will get started quickly.
First, the walls need to be created. Some may be knocked down and others will be erected to cordon off the space where the bathroom will be. Of course, there will be the need for extensive plumbing work before anyone can think about finishing the walls or decorating. After all the structure and fixtures are complete, the fun part begins.
Home remodeling in Bryan, TX for a new bathroom can include new windows with privacy treatments, painting for the walls and ceiling, tile work and stone, counter installation, glass shower surrounds and then the final finishing touches of cabinet hardware and lighting. Consider Suntunnel highlights to introduce natural light into the small room.
While a bathroom remodeling project can disrupt your life as workers come in and out building walls and laying tile, the benefit of having an additional bathroom in your house will outweigh the temporary headaches. Guests will feel more comfortable using a convenient downstairs powder room and you may never have to wait for your morning shower again. Adding a new bathroom remodel to your home improvement projects can greatly increase your homes value, as well as add a wonderful new space to your home's appearance.