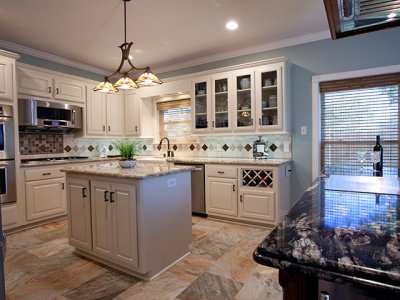 Even if you do not plan to sell your house soon, increasing the value of your property can be very beneficial to the enjoyment of life and maintaining the neighborhood's style and value. The best company for home remodeling in College Station, TX help you decide which projects undertake based on your properties particular needs and your budget.
When it comes to home remodeling in Brazos Valley, TX, the following list encompasses the top five jobs you should consider undertaking to improve your home:
1 – Revitalize and Refinish the Exterior
Curb appeal is a real estate catchphrase that describes the feeling a person gets when they look at your house from the street. It is always important to make a good first impression. Repainting, installing new siding or windows, buying a more attractive front door and adding things like flowerpots and porch lights go a long way to increasing the value of your property.
2 – Interior Floors, Walls and Ceilings
After formulating an opinion about your house from the exterior, people walk inside and want to see a fresh and clean interior as well. Get rid of out of date finishes like popcorn ceilings and flowered wallpaper. Instead, go for neutral walls, colorful or dark accent walls, stone, ceramic tile, natural wood and other quality materials.
3 – Increase Living Space
Besides having an addition built, there are other, less expensive ways to increase the living space of your home. On the inside, finishing an attic or a basement is a great idea. You could potentially add another bedroom and greatly affect your home value. To extend the living area outside, sunrooms, screened in porches, patios and decks work as well.
4 – Kitchen and Bathroom General Remodel
The two most important rooms in the house when it comes to remodeling and increasing property value are the kitchen and the bathrooms. They are also the two rooms where out dated materials and designs occur most often. While a flat a painted wall will never go out of style, a Formica countertop and linoleum floor can definitely affect other people's impression of your kitchen. New tile, new countertops and new cabinetry can completely change the appearance, feel and value that these rooms bring to your house.
5 – Energy Efficiency

Any home remodeling in Bryan, TX should focus on not only looks and low maintenance, but also energy efficiency and environmentally friendly materials. With all the interest in going green these days, installing energy friendly appliances and utilities an increase home value. Using sustainable materials for siding, decks or other construction products can decrease maintenance costs in the future and thus make the property more attractive in the market.
Although you may intend to stay in your current home for many years to come, keeping it up-to-date and marketable can help in the long run and increase property values for the whole neighborhood. You do not need to have an excessively large budget to undertake some home remodeling projects that can improve the interior and exterior of your home.