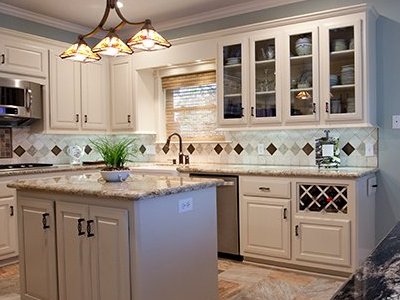 Since kitchens and bathrooms are some of the most frequently used rooms in your house, and the ones that have the most to do with property value, it makes sense that doing a general remodel of them is a great way to spend any home improvement money. While the budget and personal tastes are large factors in which projects undertake, it is important to recognize some of the up-to-date remodeling and decorating ideas that are desired in the marketplace.
Kitchens: Sleek Appliances and Colorful Contrasts
 1 – Spend a little bit more money on modern appliances with a high energy efficiency rating. Stainless steel and brushed metal finishes are still quite popular. The most important thing is to have a cohesive look between your refrigerator, stove, oven and dishwasher. If you have countertop appliances like microwaves or copy machine, continuing the same look can make your kitchen look more attractive and deliberate.
2 – White cabinetry with up-to-date hinges, door handles and drawer pulls are popular once again. Stained wood can look dated, but if you prefer the look of wood grain, select a lighter finish and make sure the hardware is unique. Kitchen cabinets painted in more vibrant colors are also in style. Painting both the top and bottom cabinets the same color is the best way to go. Accent trim can also look great.
3 – Floor tiles, countertops and backsplashes are great places to add sparks of color or interest, but beware overloading the kitchen with too many contrasting shades. While you do not have to match the floor tiles to the countertops exactly, the colors should be complementary. Or, choose a neutral for countertops, the same neutral with a view colorful accent tiles for the floor and bring that same color up to create a more vibrant tile backsplash.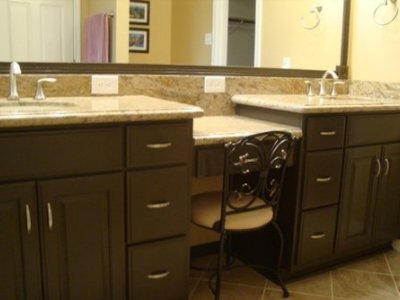 Bathrooms: Unique Design, More Space and New Fixtures

1 – Even though bathrooms are quite small, unique wall treatments can add interest and even the illusion of more space. Dark colors are a popular choices lately, especially with white fixtures such as a soaking tub and the sink. Smaller bathrooms may do better with a lighter or brighter accent wall instead of a complete surround.
2 – Since space is at a premium in the bathroom, any home remodeling that makes these rooms seem larger is a great idea. Glass shower enclosures, horizontal lines such as tile edging in a contrasting color, and less bulky countertops, cabinets and vanities give the illusion of more room. Although a considerable amount of storage speeded, consider open shelving instead of blocky closed options.
3 – Space permitting, new bathroom fixtures should be separated as much as possible. People looking for quality homes these days want the toilet hidden behind a door and wall, perhaps with accompanying bidet, and a separate shower and tub. Alcove tubs, those that are tucked between three walls, are still the most functional for a small bathroom. If your bathroom is larger, consider remodeling it to include a glass-walled shower stall and separate soaking tub, which is deeper than more old-fashioned models.